I recently had a candid conversation with a CIO of a small business unit in a large global bank about banking outsourcing trends. They have over 10,000 people and growing in GICs in India and the Philippines. We talked about why insourcing is growing in the banking sector, and he gave me an interesting perspective. I am summarizing a long discussion in six points below.
Economics of the scale of GICs: The more headcount enterprises have in GICs, more efficient the operation becomes as economic of scales kick in.
Improving career prospects for GIC employees, especially with digital work: Banks wants to give interesting, new, or digital work to its employees to enhance their interest, skills, motivation, and career path. If banks don't do it, they will lose more talent to Fintech firms.
Want to keep technology stack in-house: One of the reasons bank couldn't move fast in new technologies is that most of the work was outsourced and tied down with contracts leaving little room for agility and experiment.
The high cost of service providers: Banks know the cost structure of talent and operations in India and why to give 30% more to service providers when banks can recruit and manage talent themselves.
Lack of talent in service providers: Banks are not impressed about both quality and availability of talent. The example he gave was in automation and RPA. The quality of people, the bank got from service providers in RPA was satisfactory but not great (this was across all the 4-5 tier 1 service providers bank works with). There is hardly any investment by service providers in maintaining bench for in-demand skills. Service providers are taking equal time to source the talent from the open market as the bank takes internally, so where is the advantage.
Service providers are becoming glorified recruitment agencies: Similar to the above point, only advantage service providers have over GICs is faster recruitment of talent in some cases. There is hardly any investment in training which used to have a few years back as service providers worry that their trained talent will be poached by competitors, GICs, and startups. Are our service providers becoming glorified recruitment agencies?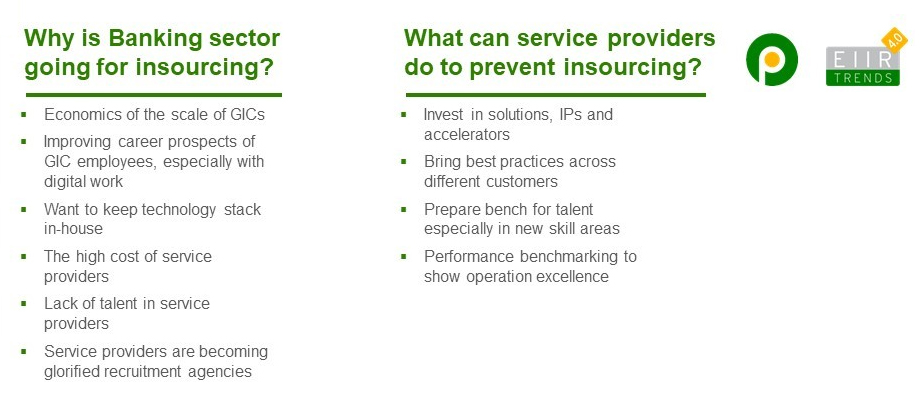 The last point made me think about how service providers can move away from the perception of a recruitment agency. Here are my four cents or four points.
Invest in solutions, IPs, accelerators: Move beyond headcount and give clients the benefit of either lower cost or faster time to market with their productized solutions, IPs and solution accelerators
Bring best practices across different customers: One advantage of any large service provider is that it works with many customers. How do clients get the benefit of the service provider's learning curve or work with different customers? What are the best practices? How can these best practices get implemented in client engagements?
Prepare bench for talent, especially in new skill areas: Many service providers are following just-in-time hiring. While it improves utilization and margin, it is reducing service providers ability to serve clients fast.
Performance benchmarking to show operation excellence: Service providers, industry associations (NASSCOM and others), consultants, analysts need to aggressively and publicly develop performance measures beyond revenue, utilization, margin to show actual operational excellence, productivity, efficiency, flexibility across different services and verticals. They should benchmark these measures across service providers and GICs, so discussion moves from price to value.
Bottomline: While it may be one individual or organization's perception, no-one tracking this sector can deny the trend of insourcing. And insourcing goes beyond the banking sector. On the one hand, service providers need to show their value with performance benchmarks, and on the other hand, service providers need to rethink their source of competitiveness, business model and close the gap between intent and investment.