An interesting trend has been observed in the last few years where big engineering service providers are going after unicorns and well-funded startups and helping them in their success journey. Some of these service providers are LTTS, Atos, Accenture, Segula, Thoughtworks, Wipro, and Infosys, among others. A few of these engagement details are discussed in the below exhibit.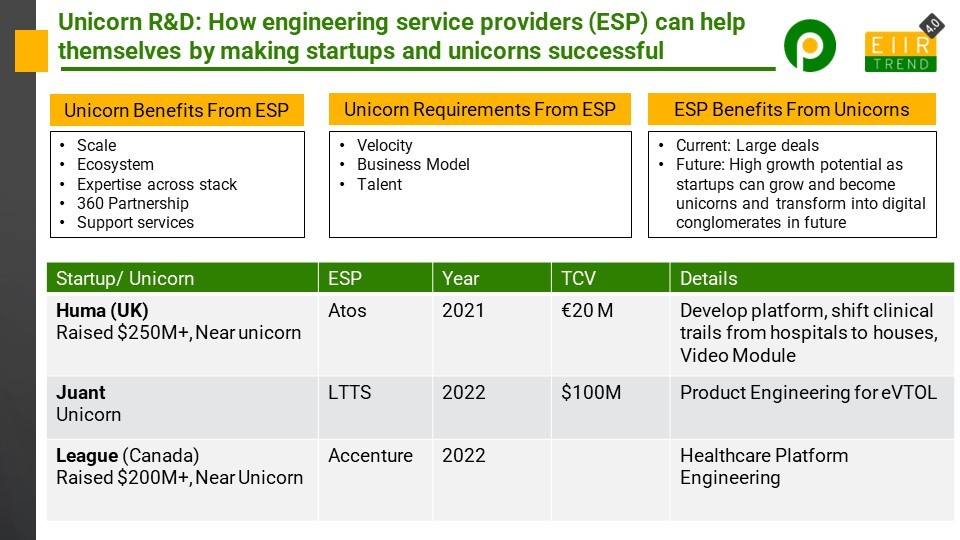 How can unicorns benefit from engineering service providers?
Some of the ways engineering service providers can help unicorns are:
Scale: Engineering service providers can help unicorns' products or platforms scale further with product engineering, Be its new features, new variants, value-engineered versions for different markets, localization, or customization according to customer requirements; engineering service providers can help in design, development, and testing.
Ecosystem Builder: Many products need a whole ecosystem to flourish, and it may be difficult for a unicorn to build the ecosystem alone. Engineering service providers can help build the ecosystem of customers, ISVs, hyperscalers, manufacturers, academia, and startups, whatever the need be for that unicorn,
Expertise Across Stack: Unicorns may be good at understanding customers and developing a core product, but to scale, they need expertise across the tech stack, including UX, mobility, cloud engineering, video module, augmented reality, or even metaverse. Unicorns may not have skills across the stack, and engineering service providers can help here.
360 Partnership: Many unicorns focusing on the B2B market can do 360-degree partnerships with engineering service providers where unicorns outsource some of their engineering work and, in turn, engineering providers help them in going to market (GTM). Engineering service providers can help in introducing unicorns' products and services to their enterprise customers.
Support Services: Engineering service providers can help unicorns in many ways by taking their support services. Many unicorns might be willing to outsource their support services for four reasons. Firstly unicorns might not have extensive expertise in product support, internal IT, infra, and other support areas. Secondly, talent requirements and cost structures for support services are different, and it may be difficult to blend in with talent requirements in core areas. They may have different salary structures and growth paths, and some unicorns might not like to develop two different tracks early in their trajectory. Thirdly building internal support teams may take the bandwidth of the management team, which should have been on focusing on critical areas. Fourthly it helps in improving metrics of revenue/ employee that help in valuation.
What are unicorns' concerns with engineering service providers?
Engineering service providers need to have the capability to deliver what we discussed in the earlier section, i.e., scale, ecosystem, expertise, 360 partnership, and support services. Apart from these capabilities of engineering services providers, some unicorns or fast-growing startups have few concerns regarding engaging engineering services providers, which are different from large enterprises. These concerns are:
Velocity: Startups' success or failure is determined by the velocity they can act. Engineering service providers' engagement models should be aligned to incentivize velocity. I have heard this apprehension from some unicorn executives that the engineering service providers might work slowly in time and material model and not aligned to the velocity they wanted to be.
Business Model: Similar to the above point, the business models of service providers should be aligned for the velocity. In addition, Unicorns or startups don't have large governance teams and need some skin in the game of service providers so that incentives are aligned. Some service providers also invest in their customers or co-invest in some specific outcomes.
Talent: Startups and unicorns need a different type of talent, both quality, and attitude. These requirements are different from the requirements of mature enterprises. I have heard from some unicorns that because their business volume is relatively low, they might not get priority in top-quality talent from some engineering service providers.
How do engineering service providers benefit from unicorns?
Engineering service providers need to take both short-term and long-term views while engaging with unicorns and startups.
Current: There are short-term business opportunities with unicorns and startups. Some are even sources of large engineering deals, as discussed in the exhibit. Large deals are few in engineering, and these large deals from unicorns add to the top and bottom line for engineering service providers.
Future: More than the current opportunities, it is the future potential that is interesting. Startups often deliver high growth, and high-growth firms will have future business opportunities. Also, startups may be acquired by bigger firms, and this gives engineering service providers entry to bigger accounts via startups, which otherwise are difficult to enter. Sometimes good work in one startup gets the engineering service provider on the radar of investors of the startup, and these investors can introduce the engineering service provider to their other portfolio companies. Also, many startups and unicorns will transform into digital conglomerates with a greater need for outsourcing in the future. (Read here about digital conglomerates).
Bottom Line: Startups are disrupting every industry. Today's startups can become tomorrow's unicorns, and some will transform into digital conglomerates. Engineering service providers should catch startups early and help them grow faster and, in the process, become startups' strategic partners. For that to happen, engineering service providers need to develop a focused strategy for unicorns and build organizational capability, including sales, delivery, solution, thought leadership, etc. Engineering service providers need to skate to where the puck is going, not where it has been for the business growth. Working with unicorns provides few such opportunities.