Atos announced that it would break into two firms and list its Digital unit separately as Evidian. Evidian would bring together Atos' Digital and Big Data and Security (BDS) business lines with €4.9 B revenue in 2021. Atos will retain the remaining service lines with €5.4 B revenue in 2021.
This is not the first time an IT firm is announcing its breakup. In the past, there have been many instances of break up of both large and mid-tier IT Firms across hardware, software products, and different services segments.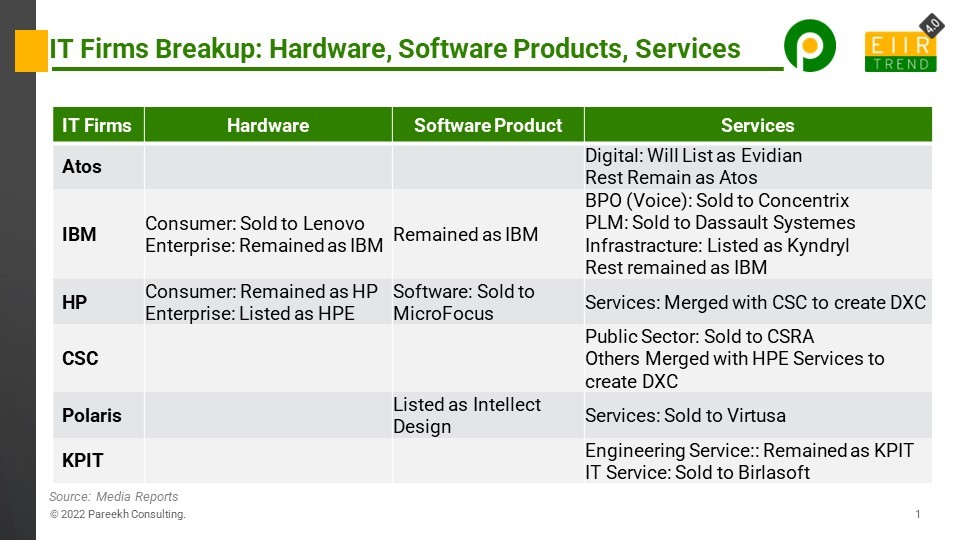 IBM was one of the biggest integrated firms across hardware, software products, and services. It has split many times, the latest being listing of IT Infrastructure business as Kyndryl. Earlier it sold its consumer hardware business to Lenovo, BPO (voice) business to Concentrix, and PLM business to Dassault Systemes.
HP was also one of the biggest integrated firms, which grew big with mega acquisitions such as Compaq in PC and EDS in services. It split into four segments, and the service segment was combined with CSC to create DXC.
CSC was one of the biggest IT services firms, and it split its public sector and enterprise business into two companies. The public sector business was sold to CSRA, and the enterprise business merged with the HP services business to create DXC.
Polaris was in both BFSI products and services. It split its product business and was listed as Intellect Design, while its service business was sold to Virtusa.
KPIT was in both engineering and IT services. It split its IT business and sold it to Birlasoft. The engineering business continued as KPIT.
Above were a few big and strategic transactions ether from a value or scope perspective. Apart from these, there have been many smaller transactions selling some parts of products or services business by IT firms such as Accenture, Tietoevry, Capgemini, etc.
Why Breakup?
Four reasons
Different businesses, different growth rates, and valuation. The business segments with slow growth rates and valuations drag the valuation of the whole firm down.
Synergies have already been explored. One dominant logic of combining different IT businesses in one firm is customer synergies. Few large enterprise accounts can be customers of all the services, and hence it makes sense to combine the businesses and become strategic partners of large customers. But if IT firms have a long track record, then these synergies would already have been explored (or reality check that synergy cannot be explored), and there will be no loss of customers because of the split.
Too big and complex to manage. Different segments require different kinds of talent, sales strategies, sales channels, culture, etc. And if the firm size becomes big, it might become difficult to manage and grow these different businesses in one entity. Sometimes issues in some parts of the business may become a distraction for senior management and prohibit companies from exploiting growth opportunities in other parts.
Legacy Branding. Some IT firms are perceived as legacy players because of prior branding despite having a good share of digital and emerging technology solutions. To break perceptions of the past, sometimes it is better to split mature and digital business and brand digital business fresh.
Will there be more breakups?
Depends. Breakups or splits are thought of when one or more segments of a firm are not doing well. It may also be because of overall valuation of the firm is less than expectations. If shareholders or management believe by splitting the firm, different parts can be better managed and create more shareholder value, then they may think of going thru this route.
We need to look around and see which IT firms are not doing well compared to their peers in growth, profitability, and shareholder value. And are they made of different segments, which can be split?
Hardware: Very few IT firms now have hardware business with them, but this could be an immediate candidate for the separation. Some firms have manufacturing businesses with them, and these could also be candidates for the split.
Products: Many IT firms have product businesses. Some firms have invested in products as part of their growth strategy. As long as products are doing good and contributing to the firm's top and bottom line and becoming a differentiator for the firm, it is a good strategy. If product business is a drag or the firm is not able to get a higher valuation despite scale in products, it is a candidate for the split. For example, IT products have higher gross margins than services, and good software product firms are traded for over 10X revenue. Some firms might get a higher valuation of their product business if they list it separately.
Services: There is a distinction between digital high-growing services and mature but low-growing or even declining services. Then there is a mix of services or horizontals such as applications, infrastructure, BPO, engineering, etc., and each has different dynamics. If some service lines are a drag or not able to get higher valuations despite the scale, they may be a candidate for the split. For example, many pureplay engineering service providers are traded with very high P/E and even 10X revenue like product firms. If some IT firms split their engineering business, then they may get a higher valuation, as happened with KPIT.
Bottom line: Will the sum of valuation of parts is greater than the valuation of the whole? Another question is if the firm is too big to manage? If the answer to any one of these questions is yes for IT firms, then we will see more breakups in the coming years.