There is a growing trend of niche pureplay engineering service providers expanding into adjacencies for growth. The latest example is of pureplay automotive engineering service providers, which are expanding into adjacencies.
Currently, the Automotive sector is one of the biggest tailwinds in engineering services (Read here), but still, automotive engineering service providers are looking to expand in adjacencies.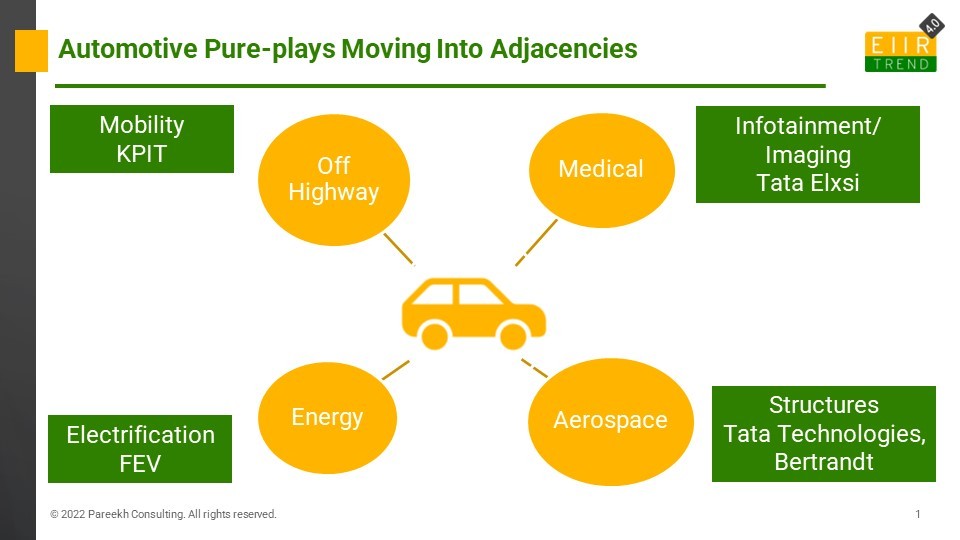 Why are they doing this?
Long-term Growth: Niche is good for differentiation, but if any engineering service provider wants to scale big, they will have to diversify beyond their niches to become a multi-vertical service provider.
De-risking: If a service provider is dependent upon one industry vertical and when that industry vertical faces a strong headwind, then that becomes a risk for the service provider. This scenario played out recently with few aerospace-dependent engineering service providers. Aerospace faced a big headwind in the last couple of years, and aerospace engineering service providers faced a major decline in revenue. Their performance was worse than the overall engineering market performance in that period.
Industry boundaries are blurring: In some new and emerging solutions, traditional industry boundaries are blurring. For example, take the case of an EV charger, will it be part of the automotive or the energy industry. Similarly, take the case of VTOLs or flying cars; will they be part of the aerospace or the automotive industry. To capture these cross-industry opportunities, it is better for engineering service providers to move to adjacencies sooner rather than later. That way, they can create agility to capture these opportunities better than the bigger players, which have siloes of big industry practices.
How are they doing it?
The way to go is to pick one competency in the industry and extend it to other industries. For example:
KPIT: is leveraging its mobility expertise in Automotive and extending it to Off Highway Vehicles
Tata Elxsi: is leveraging its imaging and infotainment expertise in Automotive and extending it to other industries such as Media and Medical Devices
FEV: is leveraging its electrification expertise in Automotive and extending it to the Energy industry. FEV has established a new business unit, FEV Energy.
Tata Technologies, Bertrandt: are leveraging their structure expertise in Automotive and extending it to Aerospace. Both of them are empaneled by Airbus as their engineering service provider.
Bottom Line: What took niche engineering service providers here will not take them to the next level. The best time to diversify is when they don't need it. Niche engineering service providers which have the ambition to grow and scale should diversify beyond their niches. Investors, when evaluating the scaling potential of engineering service providers, should look for their ability to diversify to adjacencies from their current niches.