If you are following recent quarterly results of pure-play Indian engineering service providers – LTTS, Cyient, Tata Elxsi, Persistent among others – one thing you wouldn't have missed is the mention of client-specific issues. These client-specific issues are one of the reasons for the slowdown in quarterly growth. This POV aims to discuss these client-specific issues for the benefit of investors and other stakeholders. There are seven client-specific issues in my opinion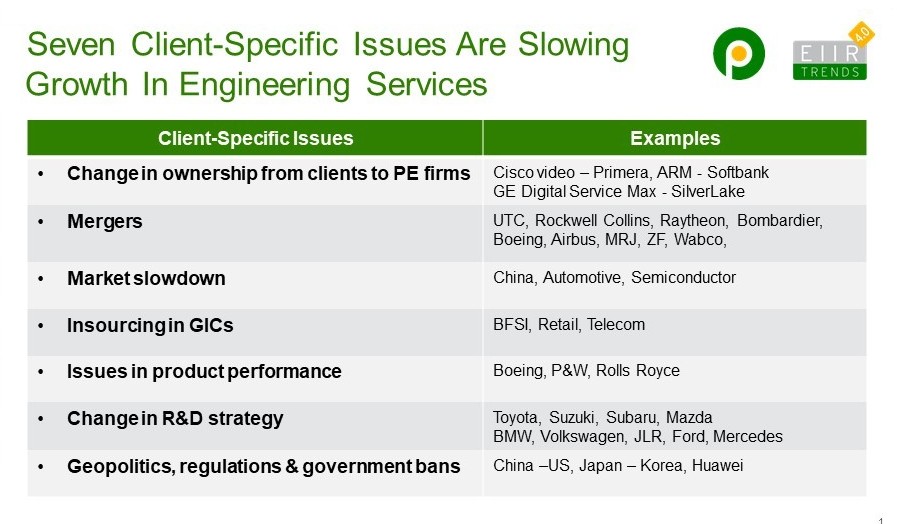 Change in ownership from clients to PE firms: If clients divest their divisions to private equity or new owner, there might be changes in their R&D plans. For example, sale of Cisco's video division to Primera, sale of GE Digital's ServiceMax to Silver Lake, sale of ARM to Softbank, etc.
Mergers: Many OEMs and tier 1 suppliers are merging across automotive, aerospace, semiconductors, chemicals, industrial equipment, railways, ISVs, etc. Mergers create short term uncertainty in many R&D projects as one of the reasons for M&A nowadays is the rationalization of R&D spend. Some examples which were/are in news Rockwell Collins with UTC, Raytheon with UTC, FCA with Nissan, Calsonic Kansei with Magneti Marelli, ZF with Wabco, MRJ with Bombardier, Bombardier with Airbus, Embraer with Boeing, GE Transportation with Wabtec, Infineon with Cypress, Broadcom with CA.
Market slowdown: – China, is slowing down as a market. Industries which are heavily dependent on China such as semiconductor, automotive are slowing down as well. If client sales are down over 10%, it will impact their short-term R&D priorities.
In-sourcing in GICs: Some clients are doubling down and investing in GIC center for emerging technologies and may go for in-sourcing to get economies of scale and scope. Though engineering service providers and GICs have been working collaboratively, the change in strategy can reduce the outsourced spend. Mostly GIC in-sourcing was seen in BFSI and retail but recently came to know about a specific example in telecom also.
Issues in product performance: If the product doesn't perform for any reason, the snowball effect is huge and can change companies R&D priorities. Earlier it was airbag issue with Takada. Now issues are coming in aero-engines in P&W and Rolls Royce. Indigo gave $20 billion order to CFM instead of P&W. Air New Zealand changes engine OEM from Rolls Royce to GE. And don't forget the issues with Boeing 737 Max. It will impact its R&D plan too.
Change in R&D strategy: Requirement of huger R&D spend in emerging technologies is forcing OEMs and tier-1s to think creatively about their R&D strategy. Clients are opening their platforms and patents to competitors to recover their R&D investment. For example, Toyota is opening its hybrid patents; Volkswagen is opening its MEB platform. They are also partnering with competitors to spread out their R&D cost. For example, BMW and JLR are partnering, Toyota, Suzuki, Subaru, and Mazda are partnering; Volkswagen is partnering with Ford; BMW is partnering with Mercedes. Also, OEMs are rethinking their source of competitive advantage and making new investments accordingly. For example, Volkswagen is opening a new software division with 5000 employees. These changes in R&D strategy can create some realignment of R&D priorities.
Geopolitics, regulations and government ban: These are black swan moments which nobody can predict. The ongoing trade dispute between China and the US, Korea, and Japan, ban on Huawei, and other Chinese firms are such events. They create immediate challenges for enterprises and impact their R&D plans.
Engineering service providers have faced these customer challenges in the past also but now velocity is more and impact is broad-based. What should engineering service providers do? In my opinion engineering services providers should:
Audit their key accounts: Top 30 or 50 key accounts for the above reasons to identify which accounts are at risks.
Keep the client relationship going: No point in beating salesforce for the above reasons. Even if clients are reducing spending because of some reason, they might increase spend later. For example, if because of M&A, the engagement has reduced for now, later supplier consolidation can bring new opportunities in the same client.
Proactively make contingency plans: While there might be some revenue slip in the above accounts, there are emerging opportunities also. The ban on a few firms and countries is opening opportunities elsewhere. New government rules are creating new opportunities also. For example, because of data localization rule, the growth in Indian data center space is in triple figures.
Stay focused long-term: The long-term opportunities are emerging in engineering services, as discussed in my earlier PoV (Link). Develop capabilities to harness them,
Bottom line: Engineering service provider pie is about 5% of the global R&D spend, and Indian service provider pie is 1% of global R&D spend. So, there is no shortage of addressable market, and long-term growth prospects are good. These are short term pains, but service providers who in the short term can anticipate early and act swiftly, and in medium-term build and align their capabilities with the changing industry structure, will reap the dividends. In tailwinds, most service providers can grow with disciplined execution; the real test of strategy and leadership is growing despite client-specific headwinds. Isn't it?