What can a year do in market share dynamics? A lot, if the market is engineering services. There have been significant changes in the market share of different service provider segments in the last year.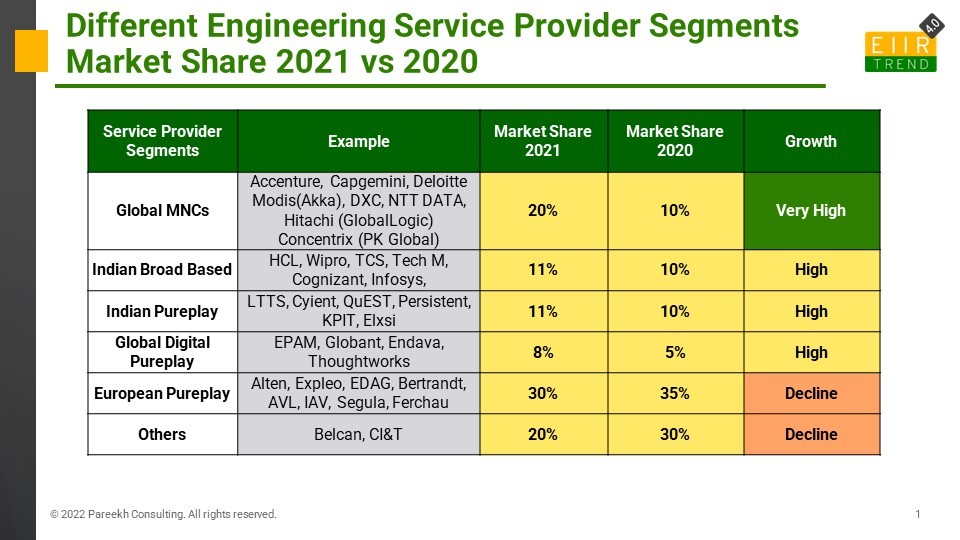 Six distinct engineering service provider segments have a different share of the pie, profitability, and growth strategy or drivers.
Global MNC: This segment consists of global service providers such as Accenture, Capgemini, Modis, NTT DATA, Hitachi, Concentrix, among others. They are in IT, BPO and now expanding into engineering. They are primarily growing with acquisitions, key accounts, and consulting-led deals. A few years back, this segment had close to zero market share, and now this segment has the biggest share and is the fastest-growing too. Last year its share almost doubled from 10% of the market to 20% of the market.
Indian Broad-Based: This segment consists of India-centric broad-based players such as HCL, Wipro, TCS, Infosys, Tech Mahindra, Cognizant, among others that have IT and/or BPO capabilities also apart from engineering capabilities. They are primarily growing with large deals, key accounts, and 360-degree partnerships. This segment has the highest profitability among all the segments. It is growing faster than the market and increased its share to11% in 2021 from 10 % in 2020
Indian Pureplay: This segment consists of India-centric pureplay service providers such as LTTS, QuEST, Cyient, KPIT, Tata Elxsi, Tata Technologies, Persistent, among others. They are primarily growing with their niche capabilities and domain-based offshoring solutions. It is growing faster than the market and increased its share to 11% in 2021 from 10% in 2021.
Global Digital Pureplay: This segment consists of global digital service providers such as EPAM, Globant, Endava, Thoughtworks, among others, focusing exclusively on software product engineering or digital engineering. This segment has the fastest organic growth among all segments capitalizing on the enterprises' push to digital, cloud, and platforms. It is growing much faster than the market and increased its share to 8% in 2022 from 5% in 2021.
European Pureplay: This segment consists of Europe-centric pureplay service providers such as Alten, AVL, Bertrandt, EDAG, Segula, among others. They compete by domain-centric onshore and nearshore solutions and also with small tuck-in acquisitions. This segment is showing a decline for two reasons. Firstly, this is the target segment of big bang acquisitions by Global MNCs such as Capgemini – Altran, Modis- Akka, Accenture umlaut, etc. Secondly, enterprises' preference for offshoring is increasing, and unless European service providers have offshore delivery footprints, they will be at a disadvantage. This segment declined in 2022.
Others: This segment consists of other service providers such as Belcan, CI&T among others which don't fit in any of the above broad categories. There is also a long tail of many small service providers across the world. Most of these service providers have a regional or local focus in a few verticals or horizontals. This segment also declined in 2022.
Bottom Line: 2021 was a year of change for engineering services, and this is just the start of a multi-year cycle. The interesting part is not the state today but where the puck will be going to be in the future. That's where there are a lot of assumptions, permutations, and combinations. In short, I believe the market share will further change significantly in the next five years. Some segments will grow much faster than others. Drivers that will impact market share in engineering services are:
Client penetration. Only 5% of the engineering pie is outsourced to service providers, so there is more headroom for growth
Consolidation. Both big and small. Some service providers will make big moves in consolidation, while others will make tuck-in acquisitions for capability augmentation or client access. There is a long tail of engineering service providers that will be get integrated into bigger service providers.
Large deals. There will be more large deals that may involve both upstream consulting and downstream operations. They may involve cost take-out, captive consolidation, service consolidation, location consolidation. Since the base of engineering is lower than IT, few large deals can change the market mix quickly.
Digital Engineering. Some clients will accelerate their capability transformation with digital engineering, be it digital or cloud in the software side, Industry 4.0 on the manufacturing side, the advanced technology on the automotive or telecom side, business model transformation on the industrial side, or market acceleration on the medical device side. This might mean clients may want to work with a different set of service providers in the future.
Offshoring and Nearshoring: Most engineering service outsourcing is still onshore, and that will change now. One good thing in this pandemic is that assumption that engineering is difficult to outsource and offshore is being revisited. Consequently, there will be more offshoring and nearshoring now, which will benefit global and Indian service providers. Regional and local service providers might lose out unless they grow their global delivery footprints.
As the engineering market is becoming attractive, more players will enter, and existing players will double down, the market share mix will change further in coming years.