There are three major headlines in engineering services at the start of this year:
HCL's acquisition of Starschema,
Tech Mahindra's acquisition of CTC
LTTS $45 Million EV Deal
And the common thread in all of the above is the expansion of engineering service delivery capability in Eastern Europe. Starschema is in Hungary, CTC is in Latvia and Belarus, whereas LTTS EV deal delivery is in Poland. So Indian engineering service providers are augmenting their delivery capability in Eastern Europe both by the inorganic and the organic route.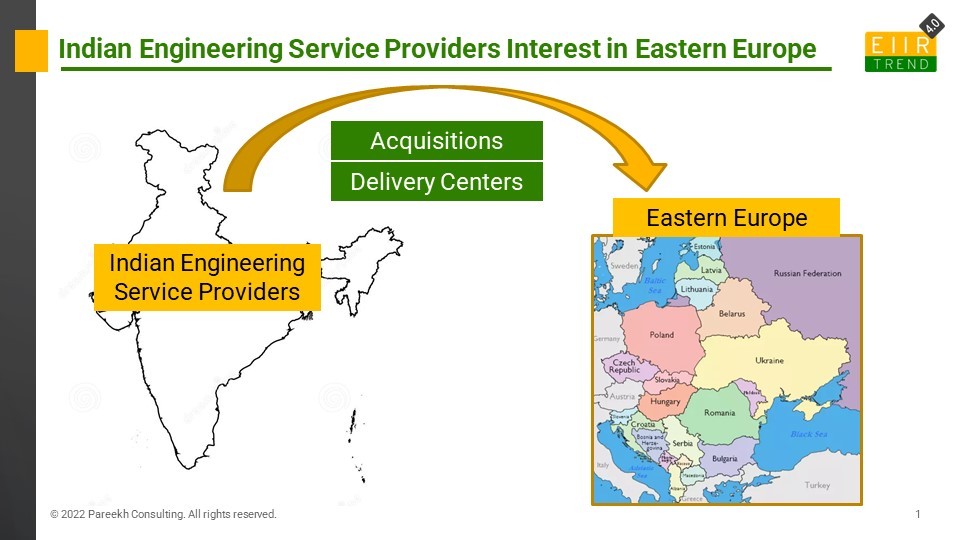 But Why? What is the value proposition of Eastern Europe delivery for Indian engineering service providers?
There are five major reasons:
Client preference: Some clients prefer engineering services delivery in the same location as their engineering centers and manufacturing plants are located for better collaboration. This is relevant for the manufacturing industry and especially the automotive industry, which has a large base in Europe. The LTTS delivery center in Poland for an automotive tier1 is an example of this.
Availability and preference of talent: Eastern Europe has a good talent base and is one of the best options after India to get talent at scale in a region. Also, for Eastern Europe engineering talent, engineering service providers are of relatively high preference compared to Indian engineering talent, which has more options and prefers startups, GCCs of product firms more than engineering service providers. This (talent availability) along with client preference are two of the main reasons for acquisitions of Eastern Europe engineering service providers by Indian engineering service providers. In the time of great resignation and atrocious attrition in India, access to the Eastern European talent pool is nice to have.
MNCs' entry into engineering services: MNCs are entering engineering services in a big way and, from a near-zero market share a few years ago, they now have a 20% share of the market. They have grown primarily by acquisitions. They all have extensive Eastern Europe footprints. Indian engineering service providers are increasingly competing with Global MNCs, and the lack of an Eastern European footprint can be a disadvantage in a few deals.
Success examples: There is a success story of one of the leading pureplay engineering service providers, EPAM, with Eastern European talent. Even an Indian engineering service provider, GlobalLogic, expanded to Eastern Europe early with acquisitions, and it got sold to Hitachi for $9.6 Billion. It gives inspiration to other engineering service providers to have scaled Eastern Europe engineering delivery capability in their delivery mix.
Location risk management: As we have seen in some recent disruptive events, all eggs in one basket or location can be risky. Some clients will also see this as a risk for business continuity. Indian engineering service providers who have global ambition should have scaled global delivery mix to satisfy clients' concerns for location risk management.
It is interesting that while Indian engineering service providers are augmenting delivery in Eastern Europe, the European service providers are augmenting their delivery capability in India and China. It is accelerated with the arrival of Global MNCs in engineering, as discussed earlier. Now Engineering Service Providers who will survive and thrive will have scaled cost-effective global delivery capability in all major geographical regions.
Bottom Line: Indian service providers' interest in augmenting Eastern Europe delivery is a step in maturing from offshore-centric delivery to a more cost-effective scaled global delivery network covering nearshore centers in Europe and the Americas. More Indian engineering service providers will make moves in Eastern Europe both organically and inorganically.