During the covid pandemic, the sector which is most hit in the engineering services is aerospace. Commercial travel declined, and it impacted airlines, aerospace OEMs /suppliers, and their product and engineering plans. Now they are early signs that aerospace engineering is bouncing back and, in fact, may grow in 2022 after two years of decline.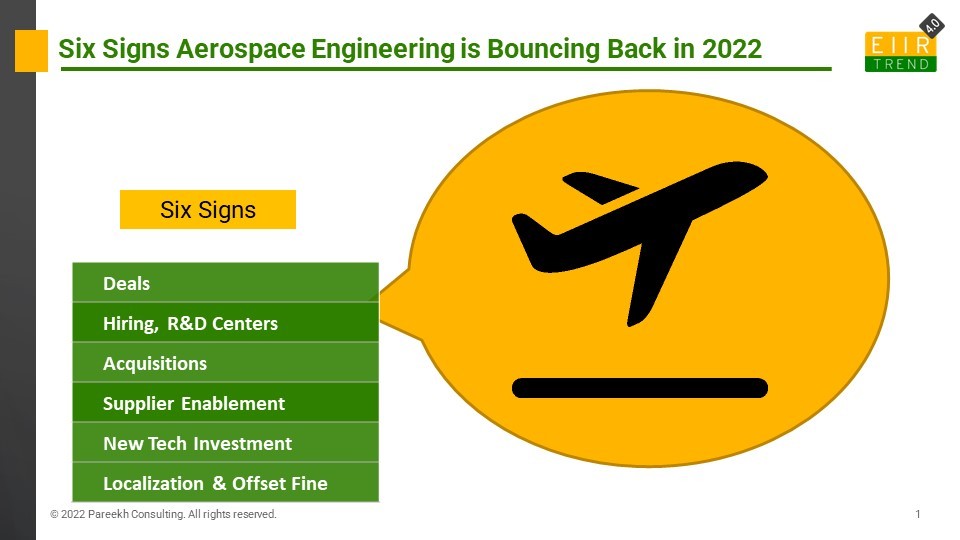 Deals: Some large deals in 2021 such as Expleo – Spirit Aerosystem for the fuselage, Akka- A Space OEM for low earth orbit satellites, Combitech – BAE System for digital transformation, Capgemini – HyperloopTT for hyperloop commercialization raises hope for a turnaround in this sector. There are deals won by other service providers also including LTTS, TCS, Atos.
Hiring and R&D Centers: There is an increased hiring activity across aerospace captives, airlines, and service providers. Either new R&D centers are set up, or expansions are being done by the likes of Safran, Spirit, General Dynamics, Intellian, Emirates, Saab, Thales, etc. Increased hiring and R&D activity in aerospace is a good sign.
Acquisitions: Accenture did its biggest engineering or Industry X acquisition last year and acquired umlaut for more than a billion-dollar valuation. It is one of the biggest aerospace engineering service providers in Germany. There were other aerospace-specific acquisitions by Belcan, Bertrandt, and Cyient. When service providers invest in acquisitions in the slowdown, it is a sign that they are expecting better days soon.
Supplier Enablement: In the last couple of months, Airbus has appointed a few preferred suppliers for engineering services outside its usual suspect list, including Bertrandt, Tata Technologies, and Sopra Steria. When an OEM enlarges its supplier base, it is a good sign for the industry.
New Tech Investment: Aerospace OEMs, suppliers, ISVs, service providers are investing in new technology solutions, including space tech, VTOL, drones, electric aircraft, green aircraft, fuel analytics, sustainable jet fuel, hyperloop, digital airports, sustainability, etc.
Localization & Offset Fines: In the defense sector, India is going on the localization drive. This is creating engineering service opportunities. Offsets have been part of the Indian defense procurement policy, but there has been a delay in fulfilling offset obligations. Recently Indian defense ministry imposed fines for aerospace and defense firms for their delay in offsets. This will create urgency for global aerospace and defense firms to fulfill their offset obligations, and aerospace engineering service providers could benefit from this.
For more details about aerospace deals, R&D centers, acquisitions, supplier enablement, new technology investments, etc. refer to the live tracker of aerospace engineering trends at EIIRTrend (Refer here)
Why is it happening now?
Air traffic is getting better, and so optimism is coming back for the aerospace engineering sector also. When decline came, most OEMs, tier-1s, and even aerospace-focused engineering service providers downsized. Most of the professionals look for other sectors of engineering, IT, and even startups to get employment. Now when things are getting better in aerospace, these people don't want to return to what some perceived as an uncertain sector. Hence there is a demand which will be met by new hiring, partnering, and outsourcing.
Bottom Line: When there is a visible activity in deals, OEMs are enabling new suppliers, hiring is up, service providers are investing in acquisitions, and new technology investment is visible, we can say aerospace engineering is on the bounce. The question is, how do stakeholders need to prepare to take advantage?
Engineering Service Providers: Invest in talent, solution, supplier enablement, new technologies, partnership. Be an optimist and ready to grab the upside.
Aerospace Enterprises: Look for more supplier enablement and partnerships, especially in new technologies. You will need them later.
Investors: Look for stocks with heavy aerospace exposure, and some of them are still trading at a discount compared with other engineering services peers.
Employees: Sharpen your skill sets and look for working in emerging technologies in the aerospace sector,