In the last few years, we have seen many mid-tier IT service providers get sold to larger firms or private equity funds.
Syntel: Atos
IGATE: Capgemini
Virtusa, Hexaware, Coforge, Mphasis: Private Equity
We have not seen many mid-tier transitions to tier-1s. So, what is stopping mid-tier growth ambitions, and do they prefer to sell?
A wide gap between mid-tiers and tier-1s
Apparently, there is a wide gap or chasm between mid-tiers and tier-1s. What has brought them here may not take them to the next level.
Mid-tier service providers differentiate themselves by their agility, better client focus, and the ability to deliver value with leaner operations as compared to tier-1 service providers. Once mid-tiers cross a certain threshold, they start losing the advantage of agility and focus, and begin to face the problems of tier-1s.
For growth, mid-tier service providers need investment but they cannot outcompete tier-1s in this area.
The other dimension is the choice of many first-generation entrepreneurs who prefer to make an exit after a certain scale rather than wait for their company to grow to the next level.
So, is it not possible to close this gap?
Closing the gap and finishing on the right side
Yes, it is possible.
Take the example of the Indian IT industry, where TCS, Infosys, and Wipro were tier-1s for as far as I can remember and were joined by three more service providers in the last decade.
I can talk about three prominent examples in the last twenty years who have closed this gap and are now counted among tier-1 service providers: Cognizant, HCL, and Tech Mahindra.
Each of them followed different paths:
Industry Vertical Strategy: Cognizant focused on two verticals—BFSI and healthcare—for growth. They could outcompete many large service providers in these verticals and were able to grow them faster than other tier-1 service providers.
Service Line Strategy: HCL focused on two service lines—infrastructure and engineering services—for growth. Now, software products is the third service line. Among Indian tier-1s, they could outcompete many large service providers in these service lines.
Scaled Acquisition: Tech Mahindra got the opportunity to acquire Satyam, which helped it double its revenue and paved the way to transition into a tier-1 service provider.
If mid-tier service providers develop a differentiated value proposition with any of these planks, a transition is possible as shown in the below exhibit.
Exhibit 1: Transitioning from Mid-Tier to Tier-1 Service Provider
Who, among the mid-tiers, can close the gap next?
Right now, the obvious plank for transition is scaled acquisition. Two prominent groups are emerging, and they may transition to a tier-1 service provider.
L&T Group: Acquisition of Mindtree and a possible integration with LTI can create a nearly $2.5 billion service provider, creating a base for a tier-1 service provider similar to Tech Mahindra.
Baring Private Equity has investments in three mid-tier service providers: Hexaware, Coforge, and Virtusa. If they combine them, it would be in the range of $3 billion.
In other geographies as well, scaled acquisitions are going on:
Tieto and Evry
AF and Poyry
Service line-specific strategy is also applied, especially in the BPO industry:
Teleperformance and Intellinet
Convergys and Concentrix
There is an interesting dynamic in the engineering industry:
EPAM is growing ahead by focusing on engineering and may transition to a tier-1service provider if the current growth trajectory continues.
The engineering leader by revenue, Altran, was acquired by Capgemini, which highlights the fact that growing a service line beyond a point is not easy.
In our research of top 100 service providers, we found that there are 63 service providers with revenues between 1.1 billion dollars and 5 billion dollars, who must be looking to close this gap. (Research Link)
Exhibit 2: Top 100 Global Service Providers 2019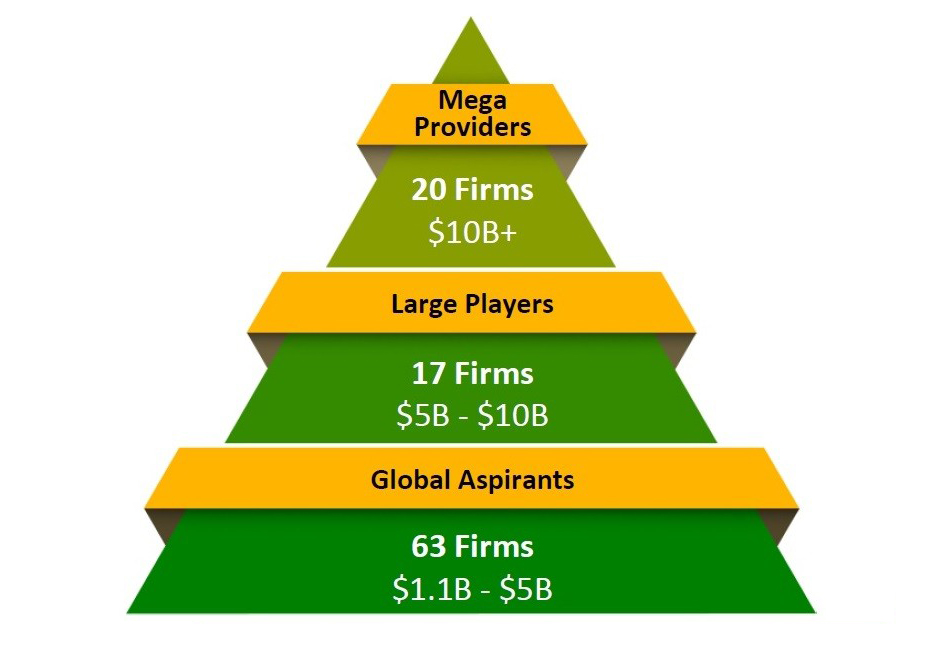 Let's see how many of them close the gap.
Why does becoming a tier-1 service provider matter?
Strategy 101. In a mature industry, only a few players survive. We have seen this in industry after industry. The IT industry is moving from a sunrise or growth industry to a mature industry. Hence, the fight for survival will happen in the IT industry, too. Mid-tier service providers, who are able to transition to tier-1s, will have a better chance of survival.
It's better to be a consolidator than be consolidated!