Capgemini to acquire Altran and in the process, Capgemini becomes the number one engineering service provider in the world with $3.8 billion+ revenue (Link). This acquisition is big news and is industry transformative, where bigger becomes better. The combined entity ticks all boxes in engineering services – mechanical, embedded, software, PLM, design, consulting, BPO – across all major verticals – auto, aero, telecom, medical, ISV, industrial, railways, energy, semiconductor, etc. – gathered over the years with acquisitions of Aricent, IGate, Sogeti, Frog, GlobalEdge, etc.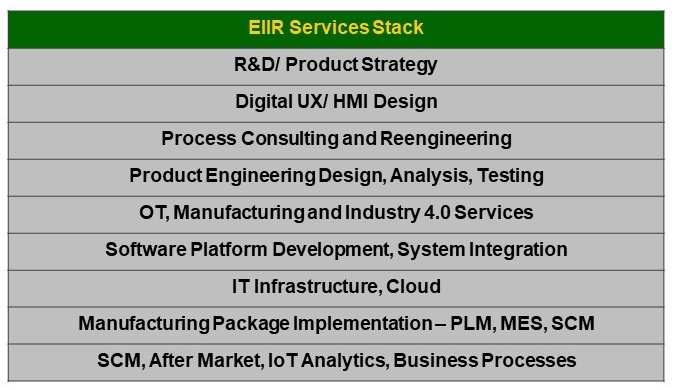 1. The emergence of Full Stack EIIR service providers
Earlier Accenture was gradually going in the direction of the full EIIR stack with its Industry X.0 offering for the manufacturing industry. Now Capgemini goes a step further and develops a full stack of capabilities across R&D strategy, digital design, process consulting, product engineering, manufacturing services, software development and integration, IT infrastructure, package implementation, business processes with supply chain and aftermarket. With full stack capabilities, Accenture and Capgemini finally have a shot in beating specialized strategy firms Mckinsey, BCG, Bain (MBB) in the manufacturing sector, something they were not able to do in other industries. ce of Full Stack EIIR service providers:
2. Engineering and R&D become mainstream
Finally, we can say that engineering and R&D is not a niche sector served by a few specialist service providers. Big IT companies are investing in this sector. And what this investment will do is bring product engineering on the tables as part of a broader solution to solve manufacturing customer problems. Instead of doing a detailed engineering design for a new chip, now the conversation may be
What new products are required,
How to increase the revenue of products,
How to customize products for different geographies and customer, segment,
How to optimize the product cost,
How to enhance the customer experience of products,
How to increase the user base by making platforms,
How to reduce manufacturing cost,
How to decrease design time,
How to make product testing robust and efficient,
How to decrease procurement and inventory cost,
How to make the supply chain more resilient
So engineering becomes an important part of the equation to solve customer challenges. Service provider with full EIIR stack offerings can drive the conversation and solution around customer challenges by aligning R&D strategy with corporate strategy and then backing it up with the execution of other services in the EIIR stack – process consulting/ re-engineering, IT and software implementation, digital product and service design, engineering design, manufacturing execution, business processes with supply chain and aftermarket.
3. Challenges for other engineering service providers
Whether you are an engineering arm of a broad-based IT service provider or a pure play engineering service provider, you need to think where will you play in the full stack. Are you happy playing in some parts of the stack or will you try to develop full stack offering? There is nothing right and wrong in strategic terms, but most service providers will need to relook at their value proposition and competitive positioning. For many engineering service providers that might mean to move in strategy, design, process consulting, IT, and BPO areas.
4. Consolidation of engineering service providers
Suddenly, the consolidation of engineering service providers with IT service providers and among themselves look realistic. The main driver of interest in the engineering services market is its relative growth. In the last four years, the engineering services market grew faster than IT and BPO, according to NASSCOM. DXC acquired Luxoft recently. They could pump up more money in the engineering space. Other big IT service providers (likes of Atos, T-System, Indra, Tieto-Evry, NTT Data, Fujitsu, NEC, Sopra Steria, and Unisys) may now have the ambition to grow their engineering footprint. Enough targets (pure-play service providers) are there in Europe, India and Latin America in $500 range – $2.5 billion revenue range with likes of Alten, Akka, Expleo, AF, Belcan, Bertrand, EDAG, Segula, SII Group,EPAM, Globant, Globallogic, Cyient, QuEST Global, Persistent, Thoughtworks, Harman, and P3. There are more names below $500 range such as KPIT, Sogeclair, Semcon, Axis codes, Cybage, Xoriant, etc. (Note – I am excluding engineering firms of L&T and Tata group as it is unlikely that these firms will be sale targets). If not acquired by IT groups, these service providers have incentives to merge among themselves and prepare for growth similar to mid-tier consolidation in IT services.
5. Investor attention
This acquisition has put the spotlight on the engineering sector. If the conversation in the last couple of days are any indication, more and more investors are intrigued by this acquisition and are putting the engineering sector on their evaluation radar. It may mean more money can flow in some of pure-play engineering service providers, and then these pure-play service providers go out acquiring other engineering service providers something we have seen at QuEST Global, which made more than ten acquisitions in last three years primarily on the backing of PE investment.
Challenges
Integration – Integration is the biggest challenge I see in Capgemini Altran acquisition. Capgemini has faced challenges in the last couple of years integrating three engineering groups – Sogeti, IGate, and Capgemini to get a unified front. Similarly, Altran and Aricent integration process are still on. Now two entities need to integrate and work closely with strategy, design, and consulting groups in Capgemini.
How Capgemini integrates Altran and disrupts the market, will determine the future of EIIR full stack value proposition. It looks good on the paper to analysts and investors, but the real world is different. The worry is that it might end up as a mixed bag similar to the value proposition of combining management consulting and IT. The unsuccessful example of EDS AT Kearney comes to mind. Even Altran had AD Little which it hived it off. I will be watching this integration and evolution of EIIR stack closely, and this time I will not be alone and many more industry watchers will also be doing the same =)