An Indian proverb says that thirsty man goes to the well, the well doesn't go to the thirsty man. But LTTS has turned this proverb upside down and conceived an innovative ER&D bus tour across eight different cities in Europe focusing on Industry 4.0. LTTS is bringing Industry 4.0 to enterprises, government, and students at their door in different European cities.
About LTTS ER&D Bus tour
L&T Technology Services embarked on a unique journey of innovation and collaboration across Europe. The journey began in Manchester and culminated in Munich with a power-packed 24-hour hackathon. The hackathon consisted of four challenges: factories of the future to reduce workplace risks and errors through Augmented Reality, mobility solutions to reduce traffic congestion in cities using AI & Machine Learning and maintenance, AR solutions to improve the way we patients and staff navigates efficiently in large hospitals, repair, and overhaul (MRO) to increase operational efficiency of aircrafts using data analytics. The challenges aimed at discovering new solutions leveraging Industry 4.0 and digital transformation to devise solutions for the next billion.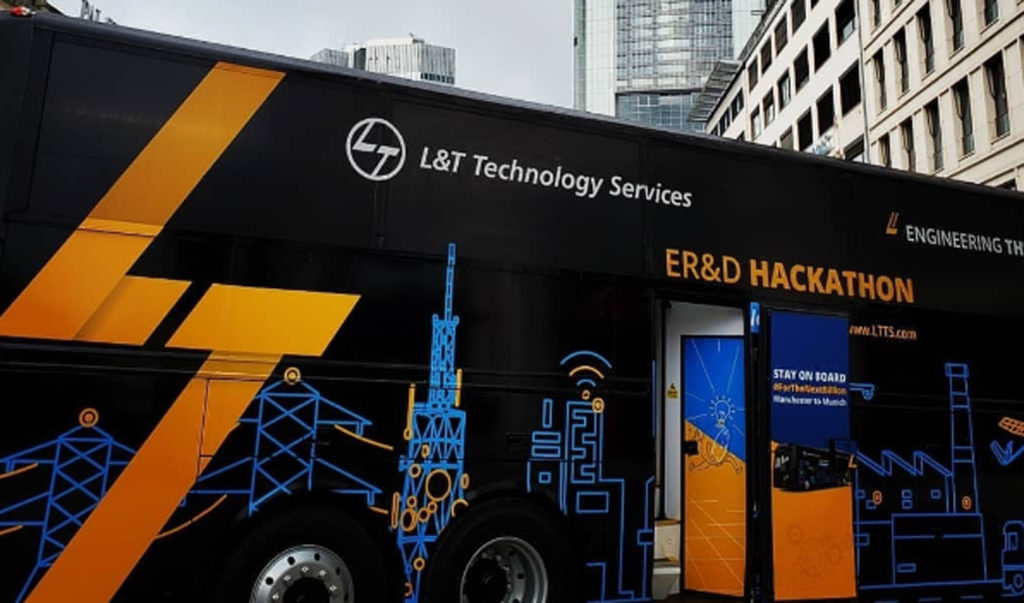 Through the journey, the LTTS ER&D Hackathon bus visited six more cities with multiple events, live demos, and networking sessions along the way. The key objective of the tour for LTTS was to showcase capabilities and expertise across three key domains: Digital Consulting, Smart Products, and Smart Manufacturing and Operations. There were 28 demos on the bus, including cybersecurity, AR, VR, manufacturing automation, digital twin, virtual manufacturing, robotics, EV vehicle, digital cockpit, and more.

Few of the key demos that have garnered great interest, curiosity, and inquiries are
Integrated MCare, Condition Based Predictive Maintenance solution which addresses unplanned machine downtime.
AR application for factory walkthrough, maintenance, and training
AR application for factory walkthrough, maintenance, and training
Electric-vehicle prototype
Robotic simulation and factory automation for smart manufacturing 
The significance of the bus tour
Globally people and organizations do tours for raising awareness about different causes. So, what awareness does LTTS wants to raise?
As the proliferation of Industry 4.0 reaches the next zenith, so will the need for new technologies which are fast, efficient, and secure. The true opportunity in this digital era lies in harnessing new technology at scale and creating solutions for the next billion. While scaling in the digital era brings with itself, the challenges of the unknown, new approaches to the application of technology and engineering have the potential to unlock new possibilities.
Considering the fact that Europe is considered to be the innovation test bed for the next-gen technologies and bearing a vision to leverage and harness the talent in Europe to develop the technology solutions for next decade, LTTS has embarked upon this tour, whereby it showcased its capabilities to its customer and prospects base across Europe, engaged with community, government officials, and connected with the students to source ideas, solutions that can solve the problems of the future.
In short, the awareness about challenges, opportunities, and solutions for Industry 4.0. Inspire enterprises to try new solutions, leaders to open up about challenges, and students to look for opportunities.
The bus tour is an efficient, mobile, and scalable way to generate awareness and inspire stakeholders. The other option could have been arranging visits of stakeholders to LTTS delivery and innovation centers across the globe. While delivery and innovation center visits have been going on, they have the limitation of reach because of distance, cost, and time commitment. By bus tour, LTTS is ensuring to touch more people in their cities and universities.
Not only LTTS but whole engineering services ecosystem is beneficiary from awareness and interest the bus tour has generated
Way Forward
The primary objective of this initiative of taking the technology and capability showcase to the customer's doorstep has been achieved, however, one tour is not enough. We need more ER&D tours like that across the industry. For LTTS, awareness is the first step, and it needs to be followed with activities such as taking the next steps with enterprises and students. Also, LTTS should continue similar initiatives in other European cities and even in other geographies too. I am hoping LTTS will do a similar ER&D bus tour and hackathon in Asian cities also =)