I started covering engineering services as analyst eight years back. The engineering services classification was simple than into four broad segments. Large engineering service providers were few, and also analysts and sourcing advisors were few who understood and covered the engineering services space.
Fast forward eight years, there are so many service providers from IT, BPO, and Management Consulting entering the engineering service space, and so are analysts and sourcing advisors. All analyst and sourcing advisory firms are covering at least some part of engineering services now.
What has changed in the last eight years? Many things, and I have been covering them in my research. The topics I would highlight today are the transformation of engineering services to a full solution stack covering engineering, IoT, Industry 4.0, and R&D (EIIR), along with the entry of new players in this space. Both these points are interlinked.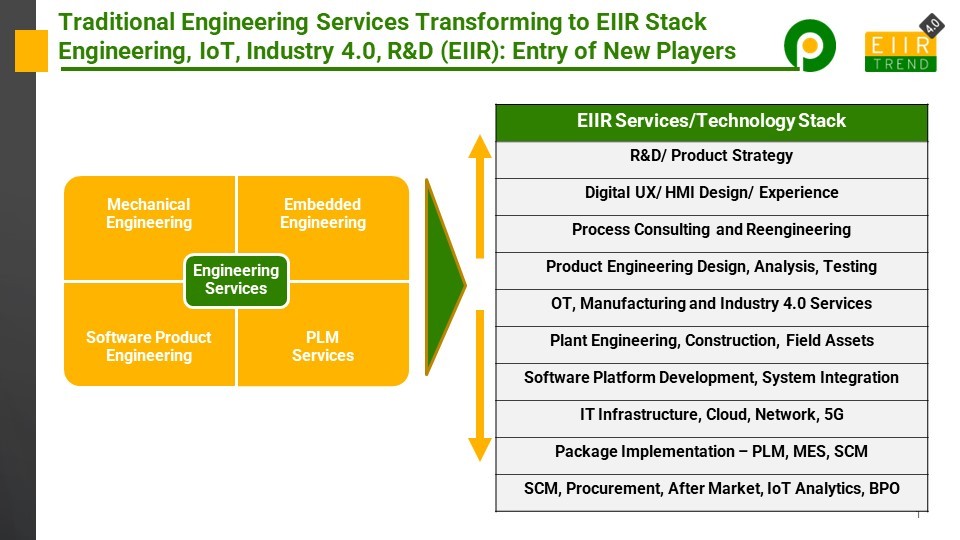 Engineering Services to Solutions and EIIR Stack
Earlier engineering services were in four broad buckets: mechanical, embedded, software product, and PLM services. They were niche services catering to the product design or R&D groups inside enterprises.
But scenario started to change a few years back. Three reasons
Emergence of IoT and Industry 4.0. With the advent of IoT and Industry 4.0, enterprises were looking for the whole solution, the system of systems such as smart and connected products, smart processes, smart manufacturing, and smart business models, which all were beyond the traditional boundary of engineering services
R&D and Business Alignment. When enterprises look for business competitiveness by leveraging emerging technologies, then engineering and R&D have to be aligned with strategy, processes, business models, business operations, and technology stack. There is an emerging opportunity for engineering service providers to solve business problems for enterprises, such as increasing sales, reducing operating costs, reducing working capital, reducing inventory, avoiding bankruptcy, keeping the supply chain running, increasing product or service usage, improving customer experience, applying virtualization, etc. leveraging engineering.
Combination of more niche activities in engineering. Engineering services definition has continuously been extended. Pureplay engineering service providers have started offering many niche services such as construction engineering, platform engineering, engineering cloud, and 5G, among others, and similarly, broad-based engineering service providers keep revisiting the definition of engineering services by including many niche services such as engineering analytics, engineering BPO among others which earlier were being offered by other groups in the firms.
Hence it is EIIR Stack comprising of Strategy, Design, Processes, Product Engineering, Industry 4.0 Services, Field Services, Software Platforms, Cloud, Networks, Software Packages including PLM, MES, and Engineering Processes including Analytics, Procurement, etc.
Entry of New Players
Four kinds of new players are entering engineering services now.
Global IT MNCs such as Accenture, Capgemini, Hitachi, and DXC, among others, are investing in engineering services. They all made both big and small acquisitions in this space.
Mid-tier IT Firms such as Hexaware and Mphasis are investing in engineering services.
BPO Firms such as Concentrix are investing in engineering services. They acquired PK Global recently.
Management Consulting Firms such as McKinsey are investing in engineering services. They acquired a data engineering firm recently.
But Why are they (new players) interested?
There are three main reasons
Potential Market Size & Growth: The market size and current growth rate make engineering an attractive segment to be in. The global R&D spend is in the order of $1.7 Trillion, and outsourced R&D spend is about 5% of it only. Also, the current market for engineering services is growing faster (before the pandemic) than other service lines, such as IT and BPO. As growth in IT and BPO was slowing down, other players were looking for the next engine for growth, and engineering ticks all boxes.
Missing Link in Digital: Engineering is also a missing link in enterprise transformation for both digital and physical industries. For the digital segment, it is digital or software product engineering, which is the backbone of all software platform development and digital plumbing. For the physical segment, it is Industry 4.0, which is driving transformation in manufacturing and asset-intensive industries. Not being present in these sectors means the inability to provide a total solution and to give openings in your key customers to other competitors.
Services Extension: They are already presenting in some parts of the EIIR stack, and further investment will augment their capabilities to take advantage of the full stack.
Impact of EIIR Stack on Engineering Market
Market Expansion: There is a huge gap between the current (5% of spend) market and the potential market. New and existing players will help in expanding the market by offering services across the EIIR stack, especially with their big customers.
Larger Deals. Deal sizes are small in engineering, but new big entrants will not be happy with small deals, and they will push the envelope for large deals leveraging full stack, which will help all in the market. Large deals may start from any point in the stack and move up and down across services. For example, one large deal started from strategy and consulting for a hi-tech customer. The customer wanted to convert their product into a platform. The service provider was first involved in the strategy phase, understanding market requirements, business potential across verticals and geographies, and developing the business case. Then they developed specs for the platform and did engineering work. In another example, a service provider was engaged in inventory optimization for an oil and gas firm. It started from procurement and then moved up the stack into IoT and Industry 4.0.
Mega Acquisitions: We already saw a few mega acquisitions in the engineering service space by new entrants (Read here). The scale of acquisitions has increased in the last few years. As more players enter engineering services, more mega acquisitions may follow.
Market Share Changes: There were drastic changes in engineering services market share in the last few years. Take the Global MNC segment. A few years back, this segment had close to zero market share, and now this segment has the biggest share in the engineering services market and is the fastest-growing too. Last year its share almost doubled from 10% of the market to 20% of the market. (Read here)
How do incumbent engineering service providers need to prepare?
Invest in Services Across the EIIR Stack. If they want to remain or become a significant player in the engineering ecosystem, they need to have full EIIR stack offerings. They need to develop capabilities either organically or inorganically.
Solution Selling & Large Deals: Instead of selling services and FTE-based projects, they need to sell solutions across the EIIR Stack, and it is a big change for many. As discussed earlier, many large deal paths start from strategy and consulting and move downwards in the stack. For some deals, it is the reverse, and it may start at BPO/ Procurement and move up the stack.
Bottom Line: It is good to see the transition of engineering to EIIR Stack and the entry of new players. Engineering is no longer a niche R&D being done by geeks in labs. It is solving real business problems and contributing to enterprises' top line, bottom line, working capital, customer centricity, sustainability, innovation, and all new strategic priorities (including Metaverse!). We at EIIRTrend are covering engineering services now as a mix of 24 horizontal engineering service lines. (Refer here). Keep evolving!