Captive or GIC buyout is one of the important growth strategies for engineering service providers. It gives scale, skills, talent, credentials, and a predictable revenue stream to engineering service providers.
No wonder captive buyout is part of the growth agenda of almost every engineering service provider which has balance sheet strength. But there has been little success. Engineering is a core business for enterprises, and selling internal engineering departments to a third-party engineering service provider is not an easy decision despite having a clear business case.
I analyzed the captive transactions data (Check here real-time tracking of captive buyouts on EIIRTrend platform). There were seven captive transactions in 2021 in the public domain where there is some component of engineering. Out of these seven transactions, five are from Scandinavian headquartered enterprises.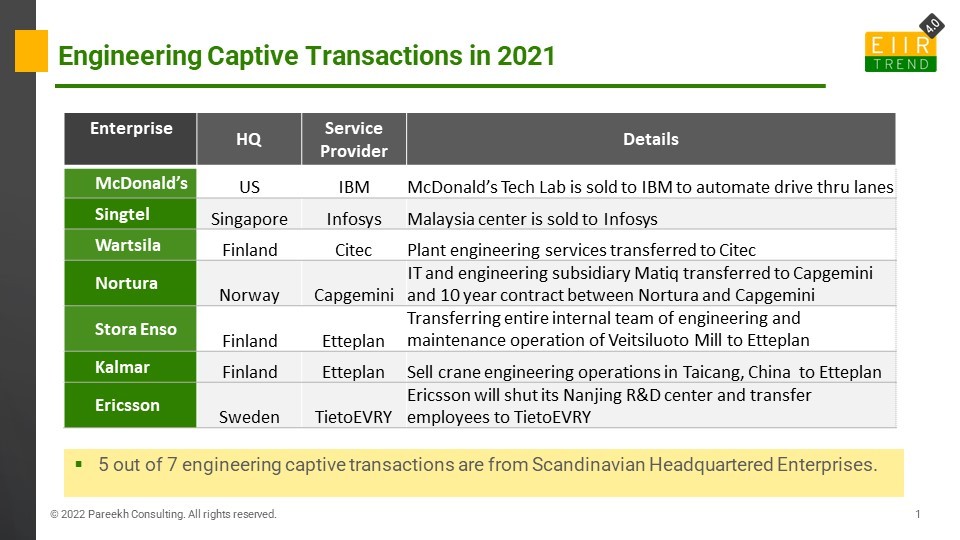 Even in earlier years also, there were engineering captive transactions in Nordics such as Volvo -HCL, Aker – Cognizant, and also large engineering outsourcing deals such as Nokia – Accenture, ALU (Now Nokia) – HCL, among others.
Why are enterprises in Nordic countries more open to outsourcing and captive transactions?
A couple of points here:
Nordic enterprises have a global outlook even in the early stages. Nordic is a small market, and if a company needs to scale successfully, it needs to look for global markets and global business models. Many Nordic HQ companies have made their mark at the global level Nokia, Ericsson, Ikea, Tetrapak, Volvo, Saab, ABB, Telenor, Spotify, H&M, etc.
Nordic enterprises have a favorable view on outsourcing compared to other European countries because of the global outlook and acceptance of global business models. The captive transaction is one of the business models which is a win-win for both enterprises and service providers if designed and executed properly.
Bottom Line: Captive buyout will remain an important growth strategy for engineering service providers. But it is very difficult also, and service providers can't devote disproportionate time and resources to convince enterprises about the win-win proposition of captive transactions. So, engineering service providers need to focus efforts on a few geographies and industries to increase their chances of success. Nordic countries look like a better target. Go Nordics!