Yesterday there was news in the media about the proposed reorganization of TCS. (Read here)
TCS is adopting a new operational structure to prepare for the next phase of growth and scale. The new structure is anchored on client size, away from a pure vertical domain structure earlier. TCS will broadly make three cohorts of clients based on revenue from clients:
Less than $20 Million: Branded as Relationship Incubation
$20-100 Million: Branded as Enterprise Growth
More than $100 Million: Branded as Business Transformation
And there is another group which is focused on New Business Models
Why is TCS moving away from geographical, vertical, and service Line structure and focusing on client pyramid structure?
TCS Reorganization is Blueprint of its $50 Billion Plan With $100 Million Plus Accounts as Focus
I think this is inspired by Accenture's Diamond Client model. Accenture defines Diamond Client as its largest relationship. Though Accenture officially doesn't specify, it is widely believed that Diamond Clients are clients which bring $100 Million plus revenue per year. Some are even double diamond clients, which bring over $200 Million in revenue in a year.
Accenture's total number of Diamond clients stood at 244 by the end of the last quarter with the Last Twelve Months (LTM) revenue of $53.7 Billion.
In comparison, TCS has 58 clients with $100 Million plus revenue by the end of the last quarter with LTM revenue of $25 Billion.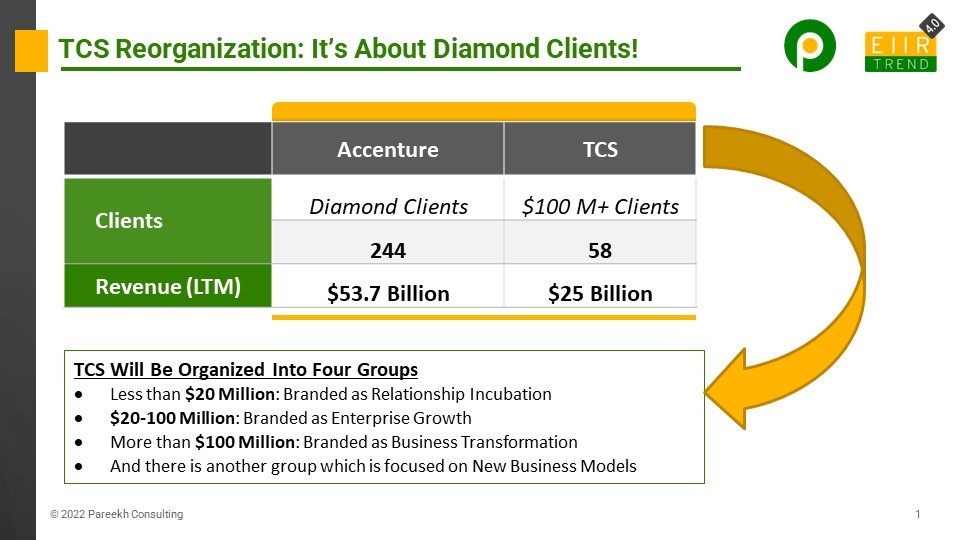 TCS may like to quadruple its $100 Million plus clients from current 58 to 230+ for achieving $50 Billion revenue
That's where TCS's new organizational structure will help. It will give required focus on $100 Million plus accounts across verticals, geographies, and service lines and help them with business transformation. And most importantly, it will sharpen focus on enterprise growth of $20 M- $100 Million accounts and work on the road map to grow them to $100 Million plus. TCS has 200+ such client accounts.
Bottom Line: This is the boldest ambition statement from TCS to grow to a $50 Billion IT services firm. Most tier-1 Indian and global IT service providers will be watching this closely. And if it is successful, more organizations will follow. Does size matter irrespective of geography, vertical, or service line? Time will tell.