What could be the impact of Russia Ukraine conflict on IT and engineering services? The situation is changing daily but based on current visibility, there could be disruption in delivery in the Eastern Europe region, and if the conflict prolongs, it could impact demand also in the short term.
Importance of Eastern Europe Location in IT and engineering delivery:
Eastern Europe locations act as nearshore centers for European clients. Also, after India, Eastern Europe is one of the best regions to get quality talent at scale and at the right price points (though a little higher in comparison to India). So apart from European clients, many US and Global clients also invested in this region. In fact, Eastern Europe is also on the radar of Indian IT and engineering services providers, and many Indian service providers were planning to increase investment in this region because of client preference, talent, location risk management, etc. (Read here).
In Eastern Europe, there are more than 1200 GICs of enterprises and more than 100 delivery centers of service providers (Indian, European and Global). Some examples of GIC and service provider footprints across 14 countries in Eastern Europe are mentioned in the below exhibit.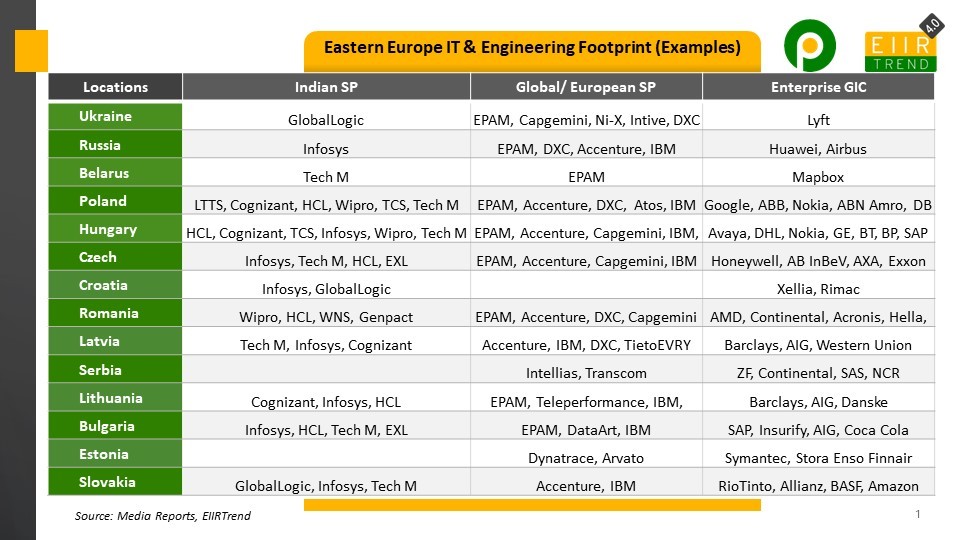 Possible Impact:
A slowdown in Eastern Europe: Indian service providers might go slow on their Eastern Europe expansion.
Increase in offshoring to India and other locations: For location risk, some of the work being done at Eastern European locations both at service providers and GICs might shift to other locations, including India. Also, going forward in new deals, some enterprises might prefer India over Eastern Europe delivery location. Ukraine IT services generated $6 Billion in revenue in 2021 and wanted to increase to $16 Billion in 2025, which could have been 10% of Ukraine's GDP. Now that will be uncertain, and some of that work might be located in other regions, including India.
Accelerate shift to EV Renewables in Europe: Oil price rise will provide further impetus to EV and other energy-saving technologies in Europe, which will be another driver for offshoring to India.
Business uncertainty: If the situation prolongs, then because of the possibility of full-fledged war, there will be uncertainty among Global enterprises, especially with heavy exposure to Europe, and they might revisit their investment priorities. Some new deals may be impacted, or decision-making may take more time.
Bottom Line: The world has been full of challenges, uncertainty, and disruption for IT and engineering service providers in the last couple of years—first pandemic, then chip shortage, and now this conflict. While we recover from challenges but the world doesn't remain the same. We hope that situation resolves soon, but enterprises and services providers need to prepare and adapt for a changing world.