Sustainability is a megatrend, and all enterprises are striving to increase their sustainability efforts. Sustainability has become a boardroom priority now, and almost all big enterprises are taking net-zero pledges. Engineering service providers can help to improve the sustainability of enterprises. The underbelly of most sustainability solutions is engineering.
Almost all engineering service providers are trying to develop their sustainability engineering offerings. How can they develop and scale these offerings?
For any service provider offering, it is either an industry vertical or a horizontal or a competency. Sustainability cannot be a vertical offering as it cut across almost all industry verticals. It will be difficult to put it as a horizontal offering as sustainability engineering cuts across many horizontals. In our opinion, it is best to develop sustainability as a competency or a center of excellence (CoE) which could be leveraged by different horizontals and verticals.
The good part is the engineering service providers will not have to start from scratch. If they are in business for a decade or more, they would have worked on many engineering projects where sustainability will be a part of it. Thus they can start building their sustainability offerings on these projects and expertise.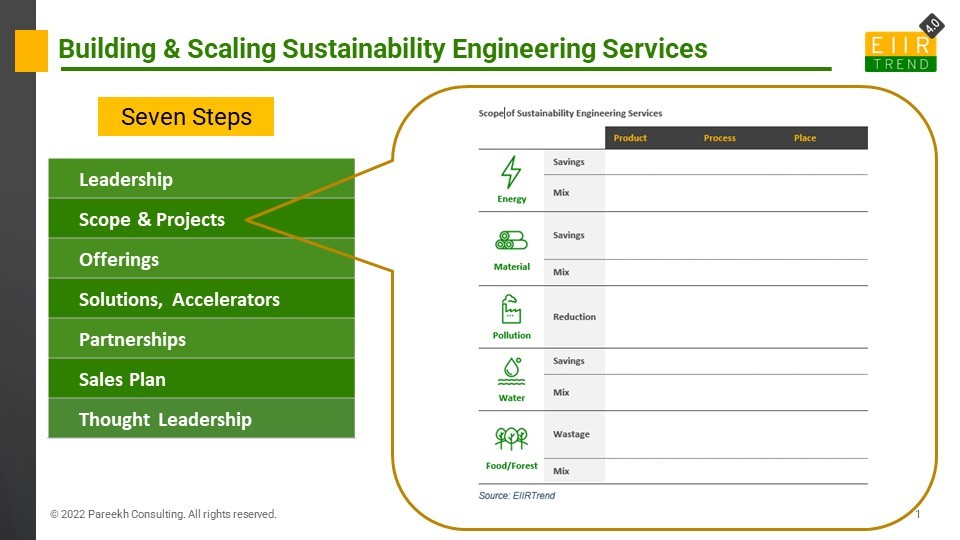 Here are seven steps service providers can follow:
Leadership: Identify a Leader who will drive sustainability engineering as a competency and work collaboratively with different verticals and horizontals. Let the leader build his or her initial team comprising of offering leads, solution architects, domain experts, presales, etc.
Scope & Projects: Identify projects which can come under sustainability scope. Sustainability services can be classified into five categories: energy, material, pollution, water, and food or forest. These categories are further divided based on changes in usage mix, reduction in wastage, or increase in efficiency. The five categories are applicable across three segments: products, process, and place. Identify both internal and external projects undertaken by service providers. (Read here details about sustainability engineering scope)
Offerings: From identified projects, develop offerings that can be taken to current and new customers. Also, identify gaps in sustainability engineering offerings based on market opportunity, alignment, and capabilities. Develop a strategy to fill these gaps either organically or inorganically.
Solutions & Accelerators: Solutions and accelerators demonstrate the expertise of engineering service providers. The learnings and experience are converted into expertise by service providers via solutions and accelerators. Solutions and accelerators help the service provider jumpstart delivery for a new customer and work better and faster. Both breadth and depth of solutions matter. Here service providers need to identify solutions and accelerators they can build for sustainability engineering offerings.
Partnerships: One point to note is that often, a single service provider cannot provide all the sustainability-related services. A mix of service providers, software and technology providers, and startups may be required. Some service providers partner with different software and technology service providers and startups to offer comprehensive solutions and services to enterprises. These partnerships could be across consultancy firms, sustainability audit firms, sustainability benchmarking firms, carbon credit firms, sustainability financing firms, sustainability analytics firms, or other domain-specific firms as the case may be. In this way, enterprises need not hire other experts for the sustainability engineering transformation
Sales Plan: Build a sales plan for sustainability engineering. Identify key clients from the existing set of clients who might be interested in sustainability engineering offerings. Parallelly identify new clients where sustainability can be used as an entry point by the service provider. The world of business, IT, and engineering are converging, and sustainability engineering is a good way for engineering service providers to enter the business and IT world as well.
Thought Leadership: In emerging engineering services areas, when there are not many proof points, thought leadership is the best way for an engineering service provider to articulate and demonstrate its value proposition and differentiate from other engineering service providers. A good thought leadership artifact can also often act as an attention catcher and a conversation starter.
Bottom Line: Building and scaling sustainability engineering services is essential for engineering service providers to remain strategically relevant to their customers. This can be accomplished if engineering service providers are ready to take a big bet on sustainability strategically and execute on seven steps discussed earlier. Build to sustain!