I published a Q2 FY21 analysis of engineering service providers recently, and the question that many people asked me is what is my expectation of FY21, and are there specific trends and segments emerging in this challenging year.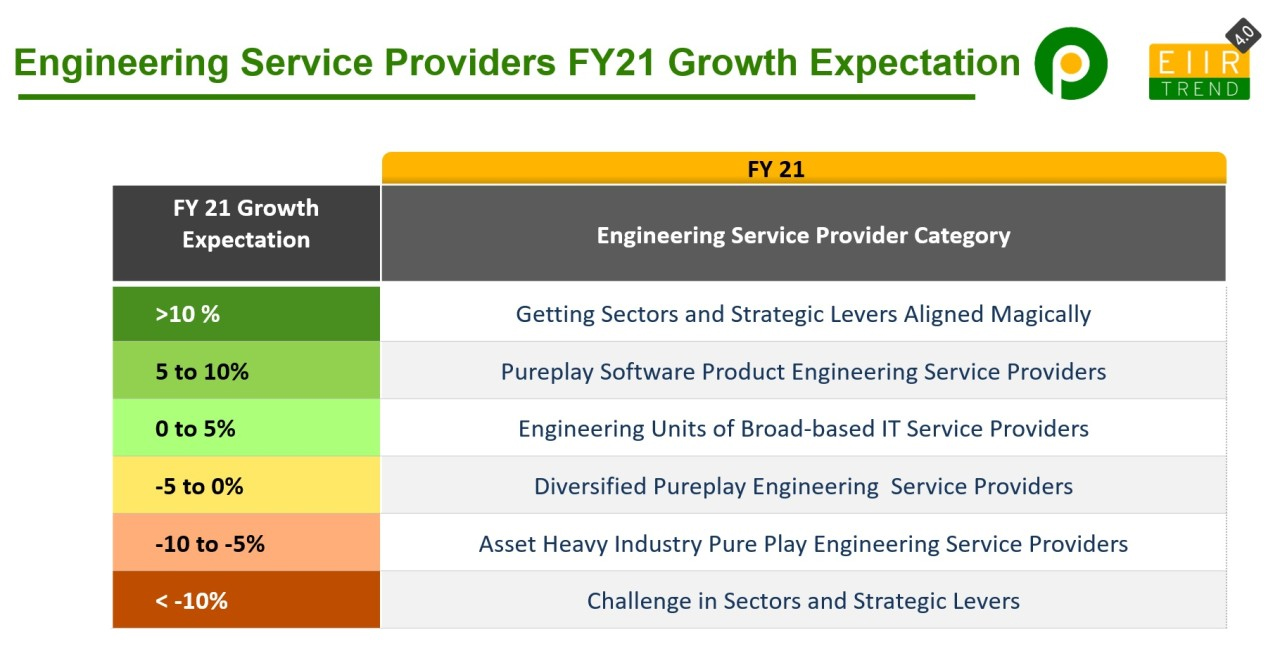 Below are my thoughts.
There are few segments emerging with distinct growth expectations, as shown in the table
I see most of engineering service providers growing between -10% to 10%.
There is a chance that some engineering service provider can become an outlier and surprise us with double-digit growth. Similarly, there is an outside chance that some service providers fall below -10%
What is driving the growth of engineering services providers now?
In my research, there are two main factors
Sector Specific: Software Product Engineering, ISV, Medical
Strategic Initiatives: Large Deals, Captive Carve-Out, Product Carve-Out, Acquisitions
I have found four Rs driving Strategic Initiatives
Relationship: with existing customers. Most large deals or carveouts are from existing customers.
Research: on customers pain points, whether it is M&A synergy, cash flow, geographic realignment, cost reduction, product strategy, etc.
Risk: Taking the risk and have skin in the game, whether it is making an upfront payment, rebadging people more than required, aggressive saving commitments acquiring a service provider with a high valuation.
Response: to customers, especially now in the virtual world. Ability to do all the above faster than your competitor matters now.
Let's hope FY21 is a turning point for all service providers. Even if some service providers are not able to grow as they would have expected, it should have laid the foundation to emerge stronger and better for FY22.