Context: Wipro has appointed a new CEO today. He has his work cut out for him to revive growth in this tough environment. But even before the coronavirus situation, Wipro was struggling for growth compared to his peers. What did went wrong or not as planned for the firm, which was among the top three India listed service providers in FY 10.
We looked back at FY10 results and compared it with FY 20 results and analyzed a decade of growth. In a few quarters and even years, noise and local issues can impact growth, but analyzing for a decade gives more signal or trend.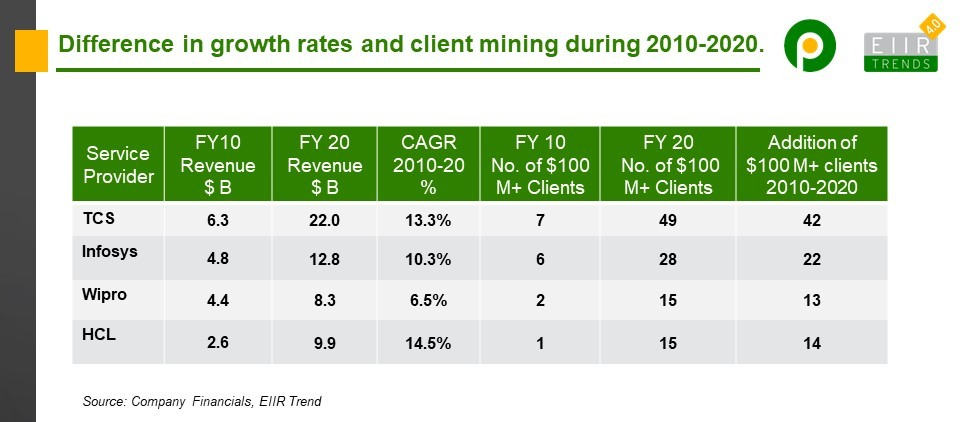 In FY 10, Wipro was at number three position with a shortfall of only $400 million with the number two service provider Infosys. We would have thought Wipro would have a chance to close this gap, but in the next ten years, the gap widens to $4 billion. True, a lot can happen in a decade. HCL, whose revenue in FY10 was around 60% of Wipro's revenue, has overtaken Wipro and now is number three Indian service provider by revenue.
How did this happen? If I have to pick one factor, it is client mining. A good way to see the success of client mining is to see the increase in the number of $100 million accounts. In the last ten years, TCS has increased the count of $100 million accounts by 42 and Infosys by 22. In comparison, Wipro is able to increase its count of $100 million accounts by only 13. In my opinion that is one of the main reason for double-digit ten-year CAGR of TCS and Infosys where is mid-single-digit ten- year CAGR of Wipro
Ok, Wipro was behind in client mining. What about HCL? HCL also couldn't mine its clients to the level of TCS and Infosys. How did HCL grow faster than Wipro? HCL grew by acquisitions. It has acquired IBM software and many smaller acquisitions such as Geometric, Butler. Wipro also made a few acquisitions but not at the scale of HCL.
That brings to the second factor for growth, which is acquisitions.
Bottom Line: If we analyze the same chart in 2030, service providers that will grow in double digits in this decade will have client mining and acquisitions as their main growth driver. Services will come and go. This is equally true for mid-tier service providers that aspire to break in the league of top service providers. They should focus on client mining and acquisitions. But coming back to the original question, what can Wipro's new CEO do?