Recently Tata Group won the bid for Air India. Now Tata Group has stakes in three Airlines
But it is not unusual to have three competing firms, neither for Tata Group nor for the industry. Tata Group has similarly three companies in the IT and engineering services space. Now L&T Group also has three companies in the IT and engineering services space. Tech Mahindra also has three companies in the IT and engineering services space.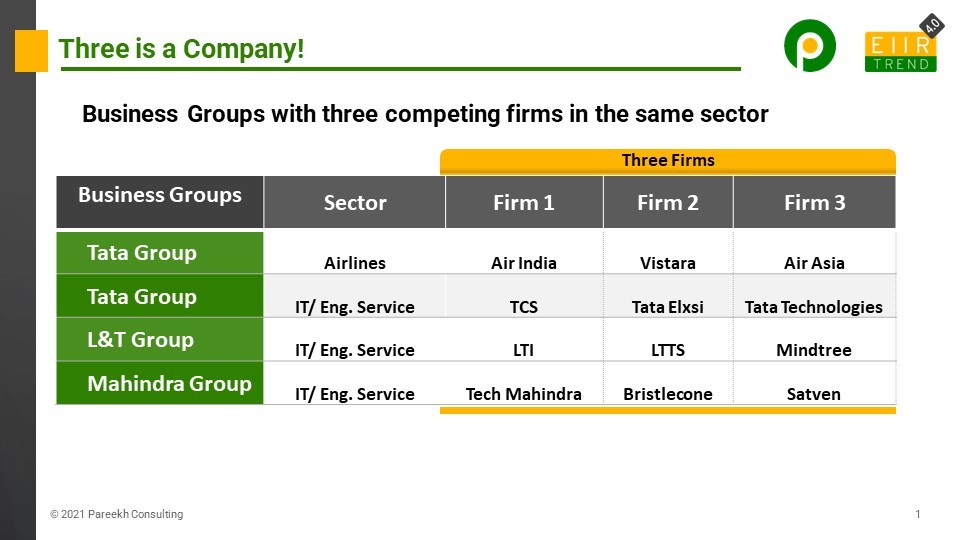 Many private equity (PE) firms have investments in competing companies. Baring PE has investments in Coforge, Virtusa, and Hexaware (now news of divestment). But PEs are financial investors, and they buy, transform and sell. They are not strategic investors for the long term, so they may want to avoid the pain and risks of integration.
For Business Groups or Strategic Investors, there is a rationale of combining especially IT and engineering firms
Economics of Scale
Synergies and rationalization of SG&A
Deeper relationship/share of wallet with common customers
Opportunities of cross-sell/ upsell with other customers
Balance sheet strength for large deals
Branding and marketing
Investment in R&D, patents, solutions over a large revenue base
Broader geographical and service footprint
So why do some Business Groups maintain three different companies when combing together might be a rational choice?
There are some advantages of smaller firms in the IT and engineering space
Easier to manage
The agility of smaller firms
Internal healthy competition
Some customers prefer to work with smaller firms
Some employees prefer leadership or key roles in smaller firms
Sometimes there are shareholder ownership and legal reasons so that firms cannot be combined, but most of the time, the reason is the value creation for shareholders. Will a combined entity creates more value or separate entities? That is sometimes a billion dollar question!
Will we see consolidation in Tata's Airline and IT Businesses or L&T Group, or Mahindra's businesses?
IMO it will depend upon the performance of smaller firms. As long as smaller firms are able to grow profitability faster than the market, there will be no hurry by Business Groups for consolidation. When growth slows down, and there is a downfall in P/E, then consolidation will become a natural choice.
In fact, if we see P/E of IT and engineering services firms now, smaller firms are commanding higher P/Es than larger firms. So combining smaller firms will, in fact, destroy value. The whole may be smaller than the sum of its parts!