Sustainability has become a boardroom initiative, and most large enterprises are making pledges to the net-zero emissions. Sustainability engineering services can help enterprises in their path to net zero.
Many enterprises have started their sustainability engineering initiatives. How can enterprises ensure they are on the right path and their initiatives are making progress in the right direction? There are many ESG metrics, but tracking them sometimes means counting trees but may be missing the forest. Here are four sustainability engineering metrics that enterprises can track to check the progress of their sustainability engineering initiatives. Also, these metrics will give pointers to enterprises on roadblocks and what to focus on for improvement.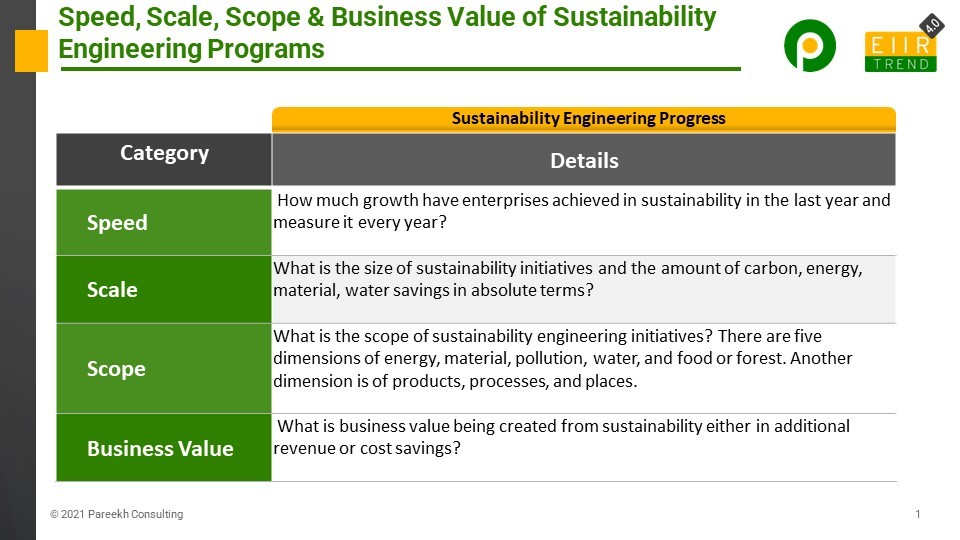 Speed: How much growth have enterprises achieved in sustainability in the last year and measure it every year? What can be done to improve speed? What internal issues are preventing this speed? Is it bureaucracy, silos, middle management priorities, selection of partners which is preventing faster speed?
Scale: What is the size of sustainability initiatives and amount of carbon, energy, material, water savings in absolute terms? The speed may be good, but what is preventing enterprises from achieving scale? Is it budget, partners' expertise, or something else?
Scope: What is the scope of sustainability engineering initiatives? There are five dimensions of energy, material, pollution, water, and food or forest. Are enterprises ensuring scope as much as possible? Another dimension is of products, processes, and places. (Read about the scope of sustainability engineering). Is sustainability incorporated in all products? Are all processes taking care of sustainability? Are all places, including offices, factories, warehouses, R&D centers, being considered for sustainability? (Read how to ensure net-zero R&D center)
Business Value: What is business value being created from sustainability either in additional revenue or cost savings? If enterprises save energy, they also save costs. Savings not only add to the bottom line but also help to finance sustainability initiatives further. The same is true for many other sustainability initiatives; they can help in either increasing revenue or saving costs.
Bottom Line: We will not reach the net-zero energy state by pledges only. We will reach there by action and ensuring enterprises achieve high speed, attain large scale, enlarge the scope and drive business value.