Attrition is atrocious now in the Indian tech industry. Daily hearing horror stories from leaders. High churn, multiple offers, triple-digit raise expectation. In this context, how can Indian IT and engineering service providers manage supply-side challenges?
I ran a poll on LinkedIn and Twitter on this with three options and requesting more ideas. Interesting results and ideas came through it. While most people suggested higher salary and more fresher hiring (Exhibit 1), other ideas emerged as well (Exhibit 2)
Exhibit 1: LinkedIn Poll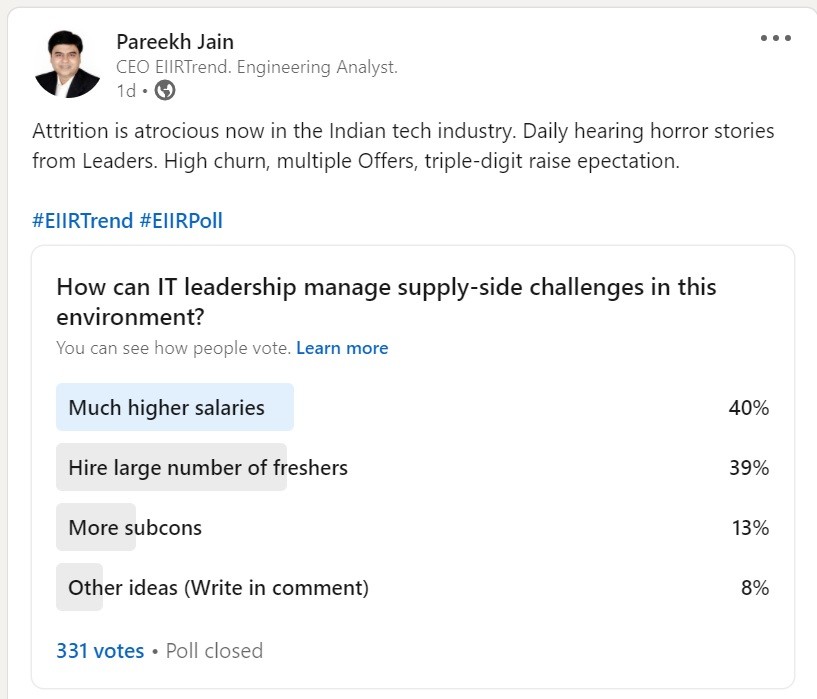 Why is there IT and engineering talent crunch now?
Four reasons
Higher demand post-pandemic from clients to do work in India.
Competition from GICs is increasing. Earlier, the attraction of IT service providers was a gateway to a global career. So people used to prefer working with service providers despite lower salaries. Now global opportunities are diminishing due to travel and visa restrictions and also due to local hiring in many client locations, including the US and Europe.
Competition from Unicorns/Product companies. Unicorns have suddenly increased in India with heavy funding. They can attract talent with astronomically high salaries and perks. If trends are to be believed, the Indian unicorn party is just getting started, with every month, there is a new addition to the list. Talent will prefer to work in Unicorns for better opportunities.
Just in time hiring strategy of the last few years. There was a narrative in the last few years that because of automation, fewer people will be required, and companies started going slow on hiring in advance and avoiding creating a large bench. Also, for margin, companies preferred to increase utilization levels and reduce bench.
Exhibit 2: Crowdsourced Ideas
What can be done? (Crowdsourced Ideas)
Many ideas emerged in discussion on social media, and many of them overlap. Here are 20 crowdsourced ideas in no particular order
1. Much higher salaries
2. Increase fresher hiring
3. Increase subcontractors
4. Loyalty bonus to motivate employees to stay
5. ESOPs Distribution of wealth to a large number of employees
6. Proactive, frequent rewards to performers. Not after they have resigned. Have a retention plan for performers
7. M&A/ Tuck-in acquisitions for skills
8. A business model like Uber for talent, attracting SMEs on-demand with a platform
9. Diversifying locations where talent is including tier 2/ 3 cities
10. Invest in ventures of employees for encouraging talented employees to stay
11. Increase Training, continuous skilling, and learning with actual work assignments
12. Academic Partnerships with industry-led curriculum
13. Engaging heart of employees beyond salaries, genuinely care. Empathetic policies. Better work-life balance.
14. Talent branding in colleges to attract talent from the next tier of colleges
15. Career track of SMEs to stay in the organization and not force to become managers
16. Promote faster and create a growth path for employees
17. Reduce the 12-week notice period to discourage active job hunting in the notice period
18. Overtime compensation policy to reward employees and check on managers to push employees
19. Improve hiring practice. Relax requirement on arbitrary experience. Close positions with minimum rounds and with minimum profiles.
20. Skill-based incentive, differential salary structure
It is not that service providers are not doing above. Now in this extreme attrition environment, they have to do a lot more to stay competitive and remain as the employer of choice.
Why does it matter?
Apart from the short-term supply-side crunch, there are long-term implications also. Indian IT industry had the advantage of attracting the best of Indian talent in the last four decades. Now that advantage appears to be losing its sheen.
In the future talent situation in India may resemble the situation in the US, where the best of engineering talent goes to the product or digital companies in the bay area, and enterprises struggle to attract tech talent. Will Indian IT service providers face a similar challenge in the future? While the shifting preference of Indian tech talent is good for the Indian startup ecosystem, it will be challenging for Indian IT service providers.
It reminds me tech talent situation in the late '90s in India when many of us started our careers during the dot com boom. It was a similar situation with high attrition, crazy salary hikes, emerging opportunities. Then service providers solved the talent challenge by hiring people from different backgrounds based on aptitude even without any tech knowledge and running big training programs for them to make them engagement-ready at scale.
So many Indian service providers started in the 90s, but very few were able to scale. The demand environment was there for everyone. In my opinion, service providers who were able to solve supply-side challenges better were able to scale faster.
At that time, the competition was among service providers only. Now the competition is from GICs and unicorns. Also, the scale is much bigger now, and the stakes are higher. Service providers will have to think differently, and whoever is able to solve talent challenges better will thrive this decade.
Bottom Line: The ability to identify, recruit, train, and retain tech talent will be a competitive advantage this decade.