Chip shortage will continue till 2023, according to most news reports. And one topic which has become important to stakeholders is the impact of chip shortage on engineering service providers. Chip shortage impact production mainly and don't directly impact R&D spending in the short run. Having said that, let me add there are real concerns and even potential opportunities also.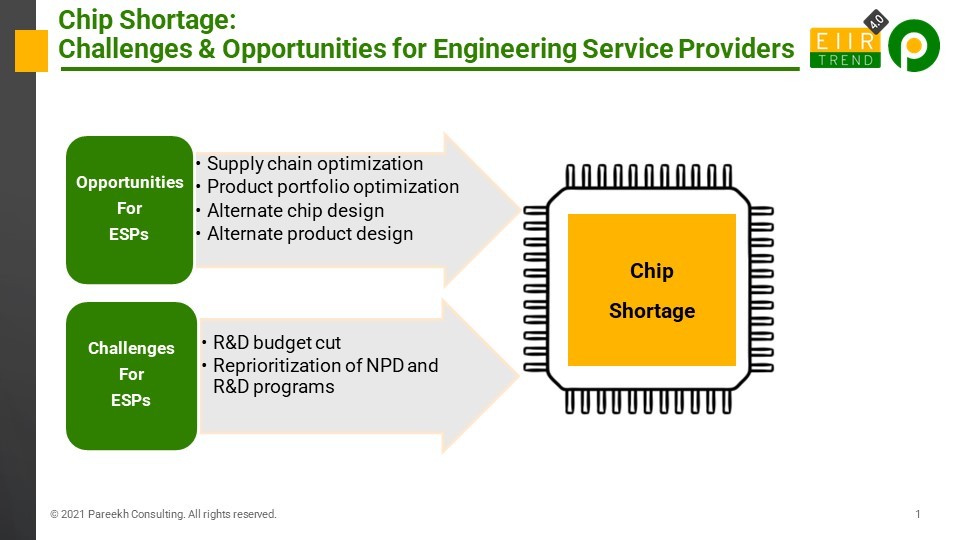 Challenges/Concerns:
R&D budget cut. Due to chip shortage, production and consequently sales of enterprises will be down. If sales are down, it might invite a cut in expenditure in various functions, including R&D. The R&D budgets may be down, and it may impact engineering service outsourcing.
Reprioritization of NPD and R&D programs. Enterprise might reprioritize their NPD and R&D programs, and some of these decisions might impact current engineering outsourcing projects adversely.
Our channel checks suggest that these challenges have not impacted either current projects or new deals yet. Things will be clearer in next year's R&D budgets.
Opportunities
 I think this is a mix of opportunities across consulting, simulation, alternate design, value engineering, alternate sourcing, and supply chain to help customers navigate chip shortages better.
Supply chain optimization: The recent ZF TCS deal is a perfect example of supply chain optimization opportunities. TCS has been engaged by ZF to address customer fulfillment disruption due to semiconductor shortages by analyzing material supply situations and developing insights for effective supply and demand balancing across product portfolios. TCS has also been engaged by ZF to help in finding alternate supply sources for critical semiconductor parts and help in expediting the procurement activities. This is expected to positively impact material availability towards customer order fulfillment.
Product portfolio optimization: Enterprise might do their portfolio optimization amidst chip shortage constraints. This is a consulting problem to optimize the allocation of critical parts to different product lines and optimize the product mix for minimizing the adverse impact on sales, profitability, and customer relationship.
Alternate chip design: Tesla had minimum disruption due to chip shortage, and one of the reasons was that they were able to change their chip design. The chip shortage is not uniform, and some variants are in more shortage than others. Alternate chip system design using different variants can minimize the disruption, and engineering service providers can contribute to this.
Alternate product design: Many products are overdesigned, and all the features are not used by the majority of customers. How about redesigning the value-engineered version of products with fewer features and consequently fewer chip requirements. This value-engineered design is right up in engineering service providers' alley.
Bottom Line: We don't know how chip shortage will play out for engineering service providers. We should be optimistic but cautious at this stage.